Interim Estimates of 2017–18 Seasonal Influenza Vaccine Effectiveness
In this report
Update: Influenza Activity — United States, October 1, 2017–February 3, 2018
Alicia P. Budd, MPH; David E. Wentworth, PhD; Lenee Blanton, MPH; et al.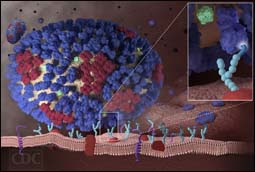 This 3-dimensional image shows what happens after influenza viruses enter the human body, attaching to cells within the nasal passages and throat (i.e., the respiratory tract).
Interim Estimates of 2017–18 Seasonal Influenza Vaccine Effectiveness — United States, February 2018
Brendan Flannery, PhD; Jessie R. Chung, MPH; Edward A. Belongia, MD; et al.
Prevalence of Obesity Among Youths by Household Income and Education Level of Head of Household — United States 2011–2014
Cynthia L. Ogden, PhD; Margaret D. Carroll, MSPH; Tala H. Fakhouri, PhD; et al.
Health-Risk Behaviors and Chronic Conditions Among Adults with Inflammatory Bowel Disease — United States, 2015 and 2016
Fang Xu, PhD; James M. Dahlhamer, PhD; Emily P. Zammitti, MPH; et al.
Reasons for Electronic Cigarette Use Among Middle and High School Students — National Youth Tobacco Survey, United States, 2016
James Tsai, MD; Kimp Walton, MPH; Blair N. Coleman, PhD; et al.
Notes from the Field: Underreporting of Maternal Hepatitis C Virus Infection Status and the Need for Infant Testing — Oregon, 2015
Stephanie D. Snodgrass, MPH; Tasha M. Poissant, MPH; Ann R. Thomas, MD.