They were little': photos show children illegally working in US slaughterhouse
Images released by US labor department show conditions over 100 children faced at Packers Sanitation Services Incorporated
Harrowing photos released by the US labor department taken at a slaughterhouse plant in Nebraska show the conditions more than 100 children faced while illegally working for Packers Sanitation Services Incorporated (PSSI) before the department cracked down on the company for violating child labor laws.
The pictures show employees covered in protective gear, using chemicals to spray down and sanitize equipment. In some of the pictures, made public on Sunday by the television news show 60 Minutes, some of the employees appear to be young children, wearing protective face glasses and holding buckets.
In February, the labor department fined PSSI $1.5m for employing at least 102 children ages 13 to 17 across 13 meat-packing plants in eight states. The fine amounts to $15,138 for each child, the maximum penalty under federal law. The Wisconsin-based company is one of the largest food sanitation companies in the US and is contracted by meat plants to sanitize facilities. The company says it works with more than 725 partner plants.
The department started its investigation into PSSI in August 2022 after a middle school in Grand Island, Nebraska, notified police that a 14-year-old student came to school with acid burns on her hands and knees. The girl told staff that she was working night shifts at a local slaughterhouse plant. Teachers also noticed that other students were falling asleep in class after reportedly working at the plant at night.
"It seemed to be known within the community that minors either are or were working overnight shifts. They told us about children that were falling asleep in class, that they had burns, chemical burns. They were concerned for the safety of the kids. They were concerned that they weren't able to stay awake and do their job, which is learning in school," Shannon Rebolledo, a labor department investigator, told 60 Minutes.
When the labor department visited the plant – which is run by the meat producer JBS and is one of the largest beef production plants in the country – during the night shift, they "noted the difference in the appearance of these workers" that were coming in for the late shift.
"They were little," Rebolledo said. "They looked young."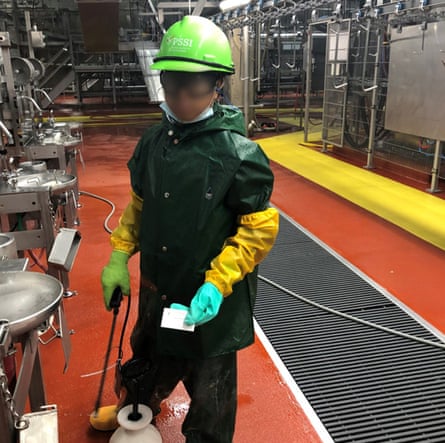 An audit of PSSI found more children were working at other plants, leading the labor department to sue the company for violating federal labor laws. The company settled with the department in December, agreeing to strengthen its child labor policies.
An anonymous former PSSI manager told NBC News in February that the plant hired many undocumented migrant workers, some of whom used fake identities when applying to the company.
"In this industry, you have a lot of people who are undocumented workers. A lot of times it's because they're not going to pay well enough to hire people in America who want to do it," the manager said.
Rebolledo told 60 Minutes that she believes the hiring of children "was the standard operating procedure".
"There is no way this was just a mistake, a clerical error, a handful of rogue individuals getting through. This was the standard operating procedure," she said, adding that she believed "the number [of children who were working] is likely much higher" than what the department ultimately found.
In statements, PSSI said that leaders were unaware that children were being employed and "has a strong corporate commitment to our zero-tolerance policy against employing anyone under the age of 18, and fully shares the [labor department's] objective of ensuring full compliance of all locations", according to NBC News.
"As soon as we became aware of the DoL's allegations, we conducted multiple additional audits of our employee base, and hired a third-party law firm to review and help further strengthen our policies in this area," the company said in a separate statement in February.
PSSI appointed a new CEO, who took over at the end of April. The company also announced a $10m fund "dedicated to enhancing the wellbeing of children in the communities we serve and helping reduce the prevalence of the rising problem of unauthorized underage workers amid record levels of unaccompanied minors entering the United States".
In March, the labor department announced an agreement made with the Department of Health and Human Services where the two agencies will collaborate to "identify geographies and employers where children are being exploited". The labor department reports a 69% rise in illegal child labor since 2018.
The free press is under attack from multiple forces. Media outlets are closing their doors, victims to a broken business model. In much of the world, journalism is morphing into propaganda, as governments dictate what can and can't be printed. In the last year alone, hundreds of reporters have been killed or imprisoned for doing their jobs. The UN reports that 85% of the world's population experienced a decline in press freedom in their country in recent years.
Last week marked the 30th annual World Press Freedom Day, a day for everyone to reflect on the importance of free expression as fundamental for all other rights. It is also an opportunity to pledge support for independent media – because without a robust and free press, a healthy democracy is impossible.
As you're joining us today from Colombia, we hope you will consider marking this day by supporting the Guardian. Despite the financial challenges plaguing the media industry, we've decided to keep our journalism paywall-free, because we deeply believe everyone has the right to access high-quality, fact-checked reporting. And we maintain our independence thanks to generosity from readers all over the world, who understand that supporting the free press is an investment in an informed and empowered public.
Unlike many others, we have no billionaire owner – this helps us maintain the freedom to  fearlessly chase the truth and report it with integrity. Your support will allow us to continue to work with trademark determination and passion to bring you journalism that's always free from commercial or political interference.
Today we ask you to power Guardian reporting for the years to come, whether with a small sum or a larger one. If you can, please support us on a monthly basis from just $2. It takes less than a minute to set up, and you can rest assured that you're making a big impact every single month in support of open, independent journalism. Thank you.