President Trump Proposes to Eliminate the NEA (Again).
Today, President Trump released his FY 2019 budget proposal, Efficient, Effective, Accountable: An American Budget, and it unfortunately repeats many of the same, misguided ideas of his
Image from the Trump Administration budget document.
last budget proposal—ideas that were met with a resounding rejection from Congress last year.
Today's release begins congressional work towards passing federal funding for the coming fiscal year (which begins on October 1, 2018.) The President's request is a first step.
Your help is again needed to make the case in support of federal investment in the arts. You did it last year, and helped #SAVEtheNEA. We need you again.
Take action now by contacting your U.S. Representatives and U.S. Senators telling them to#SAVEtheNEA. We provide a suggested message, but you can include your own stories of how the NEA has brought the arts to your community. You can find specific grant examples for your state in this list ofNEA grants.
Short on time? You can tweet at your U.S. Representatives and U.S. Senators too! Your voice can make a difference. Speak out to Congress and #SAVEtheNEA! Congress will now officially begin hearings on this request, so your message to your elected officials is timely.
What's In the President's FY 2019 Budget Request?
The Trump Administration's proposed FY 2019 budget calls for the termination of our nation's cultural grant-making agencies, including the National Endowment for the Arts (NEA), the National Endowment for the Humanities (NEH), the Institute of Museum and Library Services (IMLS), and the Corporation for Public Broadcasting (CPB).
Key Federally Funded Arts Program/Agency
(in $ millions)
FY 2017
Enacted
President Trump's
FY 2018
Budget Proposal
U.S. House
FY 2018
Proposal
Passed 9/14/17
U.S. Senate
FY 2018 Committee Proposal
Final
FY 2018 Funding
President Trump's
FY 2019 Budget Proposal
National Endowment for the Arts (NEA)
$150
*Termination
$145
$150
TBD
*Termination
National Endowment for the Humanities (NEH)
$150
*Termination
$145
$150
TBD
*Termination
Institute of Museum and Library Services (IMLS)
$231
*Termination
$231
$235
TBD
*Termination
Corporation for Public Broadcasting (CPB)
$445
(plus $50 for interconnection system)
*Termination
$445
(plus $0 for interconnection system)
$445
(plus $20 for interconnection system)
TBD
*Termination
Assistance for Arts Education
$27
$0
$0
$27
TBD
$0
 *Includes minor "close-out" funds to bring about the termination of the agency.
Wait, I Thought Congress Just Passed a Budget Deal?
Last week, Congress and the administration agreed to a two-year budget deal, which will hopefully allow for a more timely budget cycle moving forward this year. The President's release today falls before work on the current fiscal year (FY 2018) is finalized, which is a little unusual.
FY 2018 has certainly been delayed. It wasn't until February 7th — four months into the current fiscal year — that the NEA released any grant funding. The substantial grant release, however, invests $25 million across all artistic disciplines, and in all 50 states. More grant release rounds are anticipated.
What's next for FY 2018:
Final FY 2018 funding is expected to be finalized by March 23rd.
In their work earlier this fiscal year, both the U.S. House and the Senate Appropriations Committee have fully rejected the President's termination request of our cultural agencies.
We expect no less than "level" funding for FY 2018 of $150 million for both the NEA and NEH.
Didn't We Defeat This Termination Request Once Before?
YES! And, given the positive statements that the White House made last August about the work of our cultural agencies, this return to the same termination request is even more disappointing—and shows a substantial disconnect between the request and the public statements from the administration.  Last August, the White House noted that the NEA, NEH, and IMLS do "tremendous work."
Even more recently, in the President's State of the Union address to Congress on January 30th, he closed his speech by attributing the greatness of our country to the American people, and noted that "Americans fill the world with art and music. They push the bounds of science and discovery." And yet, the President's latest request again calls to end investment in our cultural agencies that expand access to the arts in every congressional district.
Moreover, the public doesn't support the termination. In 2015, working with Ipsos Public Affairs, we surveyed 3,020 American adults online, making it one of the largest public opinion studies about the arts ever conducted. Government funding for the arts is viewed favorably. 43 percent believe that current government funding of the arts is not enough, while 26 percent believe it is just right. It comes as no surprise, then, that the respondents who approve federal government increasing spending from 45 cents to $1 per person on grants to arts organizations greatly outweighs those who disagree (55 percent vs. 19 percent).
What Else Can I Do?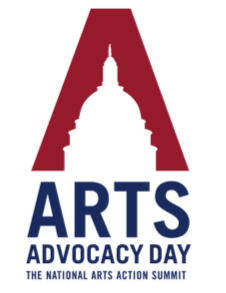 Arts advocates from across the country will convene in Washington, DC on March 12-13, 2018, for our annual Arts Advocacy Day. Arts Advocacy Day brings together a broad cross section of America's cultural and civic organizations, along with more than 500 grassroots advocates from across the country, to underscore the importance of developing strong public policies and appropriating increased public funding for the arts.
Attendees will join advocacy training sessions and policy briefings followed by a full day of meetings on Capitol Hill with their U.S. Representatives and U.S. Senators. The Nancy Hanks Lecture on Arts and Public Policy at The John F. Kennedy Center will also take place during the two-day event.  Will you represent your state in Washington, DC this March?
Register now! The advanced deadline to register is Wednesday, February 21—after which, you will only be able to register on-site!
Help us continue this important work by also becoming an official member of the Arts Action Fund.  If you are not already a member, play your part by joining the Arts Action Fund today – it's free and easy to join.